29 September 2015 by marty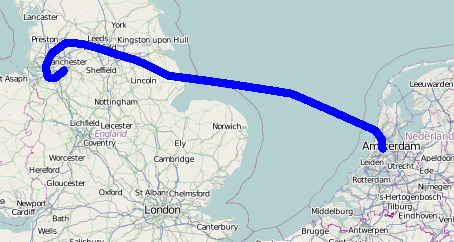 My next blog entry from a string of flight inspired posts is another flight GPX tracklog.
This time from my weekend city break in Amsterdam. I initially thought this info might be a bit unique and interesting, but in the search to find some of the other flight details I came across Flightaware.com. It has some great info there, including to my amazement a log of the flight! Oh well, guess this will be ending my run of this type of post then.
Simba Safari details
Day one: Kilimanjaro International Airport to Arusha
Day two: Arusha to Lake Manyara National Park
Day three: Lake Manyara to Serengeti National Park
Day four: Serengeti
Day five: Serengeti to Ngorongoro Crater
Day six: Ngorongoro to Tarangire National Park
Day seven: Tarangire to Kilimanjaro International Airport
If you want to compare my data to that of Flightaware's here is the link: EZY1836