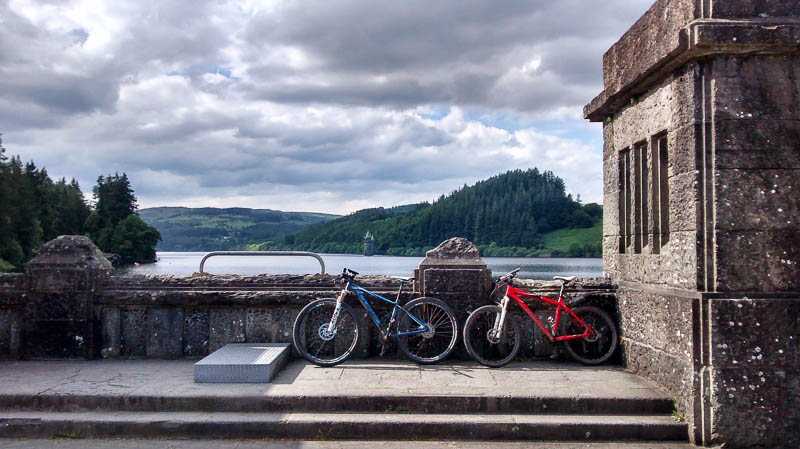 Spent a second fantastic weekend camping in Shropshire in mid June, having previously visited in 2011.
Marty opted for a day mountain biking around the Long Mynd area which I did enjoy thanks to the spectacular views of the Shropshire Hills. But the highlight of my weekend was a trip to RSPB Lake Vyrnwy on the Sunday. We packed up the tent and headed off into Wales with plans to cycle around the lake. On arrival we headed to the main Coed Y Capel hide by the car park. I was disappointed to see that there were no bird feeders out, previously these have given great views of small birds, however we got chatting to the RSPB volunteers who informed us that the absence of feeders was an attempt to protect the bird population from a devastating infection, trichomoniasis.
We then set off around the lake towards the centenary and lakeside hides. I wasn't hoping to see much when we arrived at the centenary hide, on our previous visit all the action had been at Coed Y Capel. We had just made our way into the hide when out of the corner of my eye I saw a flash of blue streak past! I instantly knew I had seen a kingfisher, and was so excited as this was my first ever sighting! My luck continued when the bird flew back into sight and perched on top of a post amid the reeds, giving us perfect views, but sadly did not stay long enough for a photo opportunity!
After all the excitement we decided to have a pit stop and opted for the Lake View tea room, a short climb up from the main road around the lake. The tea room is well located, with excellent views over the lake from the front terrace. We had a pot of tea and Marty had a scone, but sadly for me there were no gluten free cakes! However the fantastic bird spotting continued from our table with sightings of siskins, housemartins, chaffinches, jays, a mistle thrush, pheasant and a great spotted woodpecker!
Fully fuelled we set off out our "flying lap" - an attempt to get the all important Strava segment! Considering we were on our mountain bikes we flew around, clearly boosted by a fantastic few days!