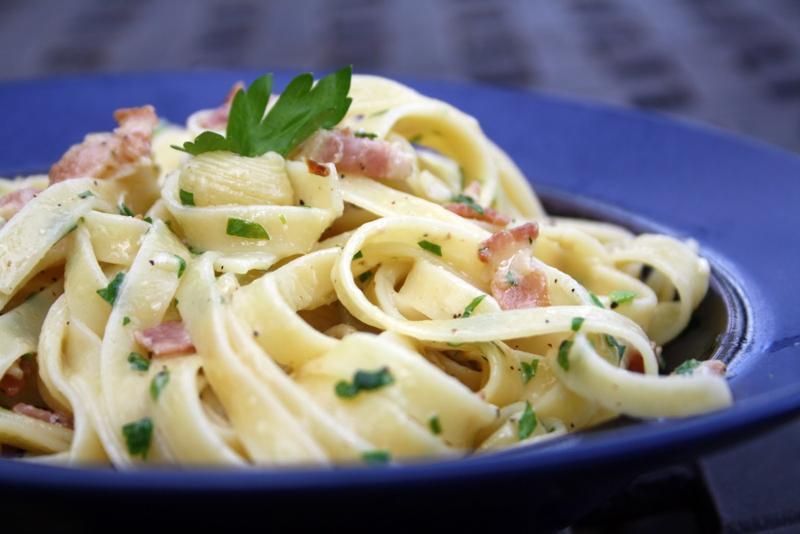 Pork & Mushroom Carbonara


By

Alison Hardy & Martin Childs

A quick cheap and tasty twist on your traditional dish

I'm a fan of Carbonara but don't care so much for pancetta, it's more than double the price for what amounts to basically bacon. I don't like using regular bacon in the recipe either - I only buy thick cut rashers if you are using them for anything other than bacon butties then you are commiting a crime.

As a result my recipe uses pork loin, it actually costs less than bacon and at third of the price of pancetta it's a done deal. I generally always have some knocking about the freezer and you can chop it up nice and chuncky so you can actually tell you have meat in the dish. Gammon is another option - it's even cheaper and saltier - but I'm sticking to pork loin as the texture is great for this dish.

Alison has also managed to tweak the recipe to be easy on the cheese but to retain the cheesey-ness of the sauce so its good on the stats as well, I've also shoe-horned some mushroom in as well - they add a bit more bulk as I don't like feeling cheated with all sauce and no filling.
Serves 2
Ingredients
• 1 pork loin steak
• 120g dried spaghetti
• 2 mushrooms
• 1 egg
• 25 g Parmesan
• 1 clove garlic
• 1 tsp dried parsley
• Salt and pepper
Method
1. Cook 120g spaghetti until al dente (Approx 10 minutes)
2. Whilst the spaghetti is cooking cut pork into thin strips, slice mushrooms, crush garlic
3. Lightly fry pork, mushrooms and garlic for 4 minutes
4. Beat egg
5. Drain spaghetti and return to the pan, add beaten egg, ¾ parmesan, pork, mushrooms, garlic, parsley, salt and pepper to taste
6. Stir well
7. The heat of the cooked spaghetti will be enough to lightly cook the egg
8. Transfer to pasta dishes and sprinkle remaining parmesan over the dish