The only real source of places to sledge I've found is this article from the Manchester Evening News. There's a couple of good spots there but there appears to be a glaring omission - there's nothing in the Peak District, but you are probably not going to find a great hill without a bit of local knowledge!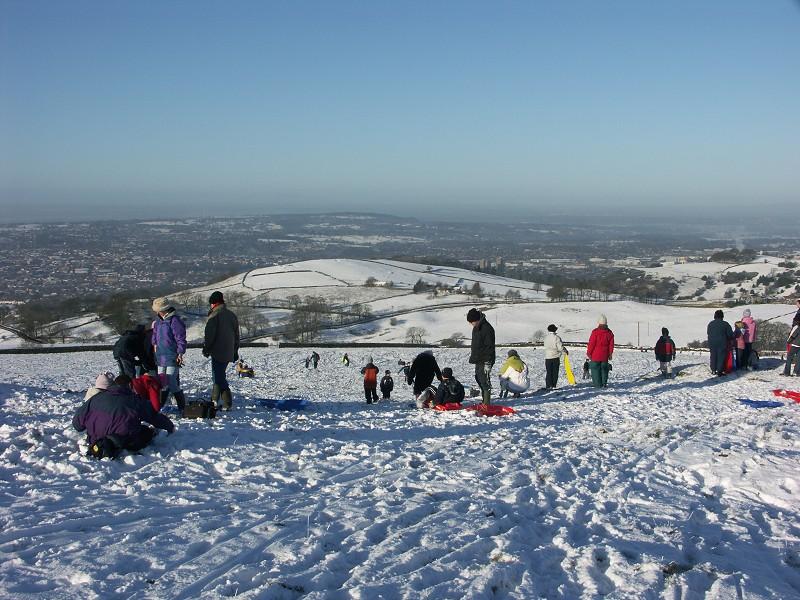 Lyme Park comes close to it obviously but what we need to consider is somewhere high enough up that if there's even a sniff of snow in the forecast anywhere in the North West you are guaranteed to get some good powder.
Well, Tegg's Nose Country Park fits the bill. Location is perfect, just off Snake Pass - this road is always closed when there is even a hint of snow - that's what we are after: snow! Although not too far up it that we are trying to drive through the snow drifts.
Facilities are also good: cafe, toilets & a car park (£1.70 for three hours). For directions from the car park just follow the other people or use the Strava map below.
When you get to the slope you'll be presented with two fields seperated by a dry stone wall. You can string a good 200m run at an average gradient of 15% if you can combine them both via a gap in the wall, nice. When we were there there had been a number of jumps built for added fun, the car park was full but there's plenty of room for everyone.