So I've got myself a one of those bluetooth selfie buttons, but before you start slating me for being one of those plonkers - I am using it for other remote control purposes...
The off road satnav loaded with OS Maps which I use for navigation on my MTB sits in a waterproof case attached to my stem. The whole setup is great, I don't have to faff about with maps and it lets me spend the maximum amount of time riding as fast as I can. Plus it is much cheaper than a Garmin 800/810 and I can get far better real time stats during my ride.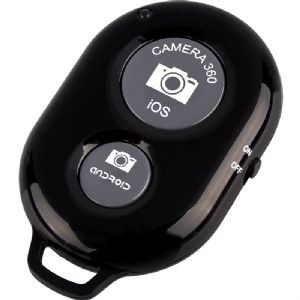 The only drawback is that the screen drains the battery too much to have it on all the time, no problem really as you can just flick it on when you need to see the map. But phones these days have their power buttons on the top edge of the phone and are quite tricky to press, so I've been using old & cheap smartphones with hardware home/back/menu buttons on the front like the ZTE Blade and previously T-Mobile Pulse. Sadly reasonably priced phones with these buttons that don't have a rubbish screen resolution are no longer available and I'm looking for an alternative solution.
So I've been looking for some sort of remote I can use. I initially experimented with a cheap bluetooth headset I was hoping to remap a button on it to wake the phone only however it appears the cheap ones only allow you to redial the last number you've dialled and won't accept remapping.
Given the latest craze of the selfie button I thought I'd give it a bash, having found no details of how they exactly work from the internet I took the plunge and bought one from ebay for a very cheap £1.99 and thought I'd post my findings.
How it works
It work quite simply really, the Android button simulates a Return and the iOS/Camera 360 button sends a Volume Up command. Additionally the Android button has the ability to handily wake the phone up.
Key mapping:
Android button  ENTER      Keycode 28
iOS button      VOLUME_UP  Keycode 115
Key layout:
hid-keyboard
Hope this will be of use, I'll post up my findings in relation to controlling Oruxmaps with it at some point.