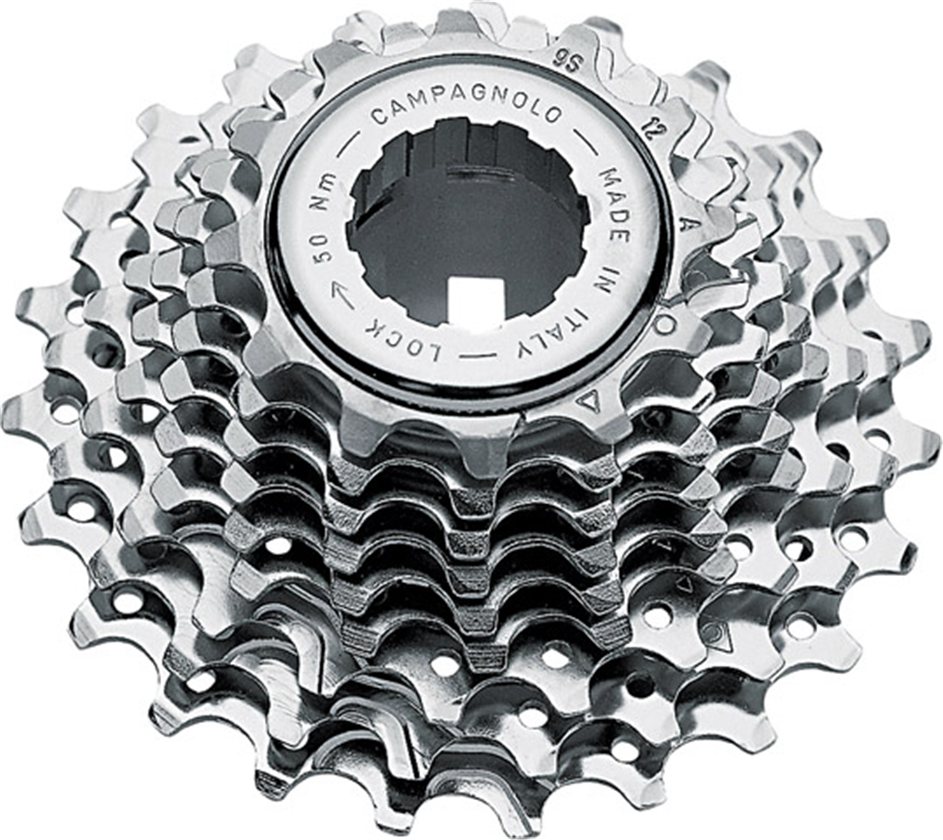 One of the great thing Campagnolo pays particular attention to that other manufacturers often overlook is gear ratios.
A regular rider might only notice jumps between sprockets when they are excessive such as on super wide blocks, the reason for this is that we automatically compensate for a non optimal cadence by slowing down or speeding up. The racers among us will note that in a
The compromise Campy makes in retaining minimal jumps between ratios is that they sometimes sacrifice top and bottom end gears. It's an acceptable trade off, keeping the most used middle gears in preference to the rarely used extremities.
You particularly notice this phenomenon the fewer numbers of gears you have. In a modern 11 speed setup Shimano now offers an 11-28 block which is now the default choice for even pro riders. If you convert this spread into a 9 speed cassette you'd lop off the top and bottom gears leaving you with a 12-28 spread. Unfortunately for Campagnolo users this is deemed to have too many jumps still and the widest they will supply you with is a 13-28.
Luckily for us old skool Campy users we can easily knock our own ratios up using Veloce level components. If you consult the Campy spare parts catalogues and tech specs you will note that the ramp patterns mean you can mix and match most of the ratios and preseve the finely tuned shifting characteristics.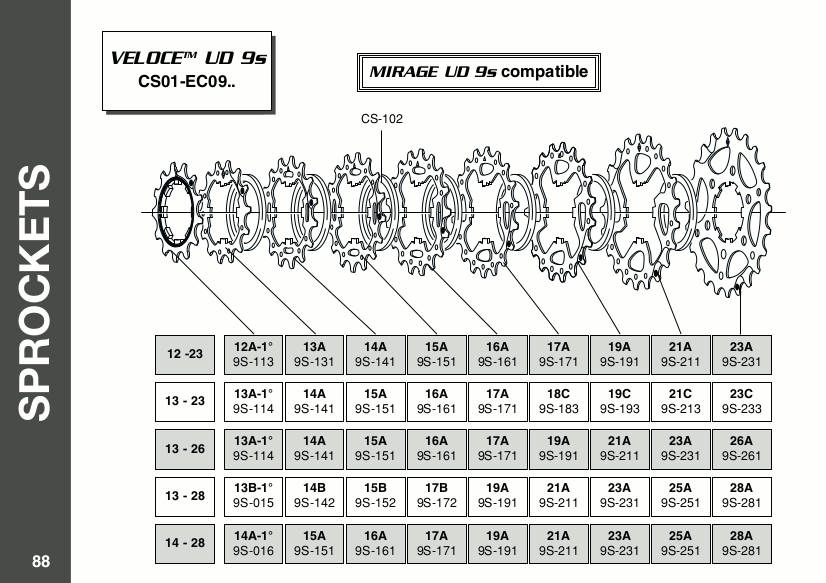 If you take a look at the chart (full pdf here) we can see in order to get a 12-26 block all we is to lose the 13 and 16 sprockets from a 13-26 and slot on a 12 and 13 from a 12-23.
The genius of it is that if you study the sprockets model numbers you will see that the ramps betweens the ratios stay perfectly synced as Campy intended them to be.
As an additional bonus it needn't be an overly expensive procedure - nearly new 12-23 cassettes can be pocked up uber-cheaply from ebay as nobody really uses them today.
Head over to the support section of the Campagnolo website and indulge youself in all the spare parts catalogues and technical manuals you could ever dream of!