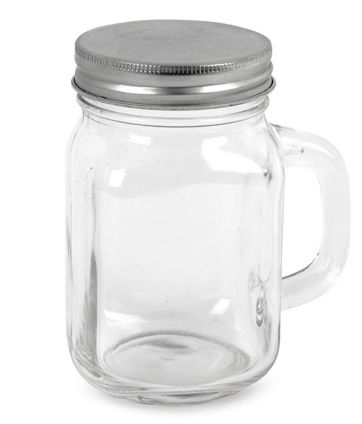 It was whilst perusing my local Quality Save where I happened upon an old skool jam jar for sale that my mind caught upon something but I couldn't quite figure it out....
The mason jar in question was a heavy old thing which had an integrated drinking handle, it was this that provoked my attention - I am regularly in the need of on-the-go drinking vessels and am always on the lookout for new ways to transport liquids.
This particular item whilst igniting my attention didn't quite gel as a proposition. With being bundled with a pair of socks and priced at £1.49 it was within my value for money parameter. The trouble was it was just a bit too heavy and cumbersome, the handle turns out to being largely superfluous as you wouldn't use it to carry any hot liquids as you'd use a proper travel mug or flask.
The main problem for me was that it just doesn't sit right paying money for a glass jar when I'm regularly amassing them through my regular course of eating at home. And with that my analysis of the idea was parked and I left the jar on the shelf whilst I could work on the idea further and would revisit when I'd fully formulated.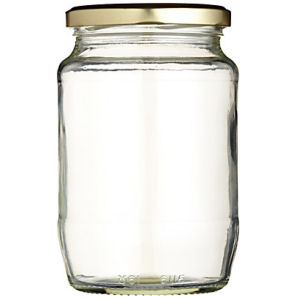 It didn't take long for further inspiration to arrive. It was whilst watching the new series of The Walking Dead a couple of days later there was a scene in a barn that had been made into a makeshift bar. The drinking vessels of choice for their ingestion of hooch was in fact jam jars, this demonstrated to me that such a use was more than just possible - it was somewhat preferable!
At this point I was still struggling with the idea, I'd not yet cemented the usage protocol so continued to hold off on any purchases.
Fast forward to the next weekend when I was eagerly packing for the second round of Revolution at the Manchester Velodrome that the final inspiration struck...
It is not that I am tight (well I am but not in this instance) but I do enjoy a drink whilst watching the track racing. The problem is that there is always a massive queue for the bar and there is just not convenient time to visit it without missing any of the cycling action. Combine this with the fact that the booze is actually a rip-off as none of the beer is actually on draught - they open a can from the fridge and pour it into a plastic glass!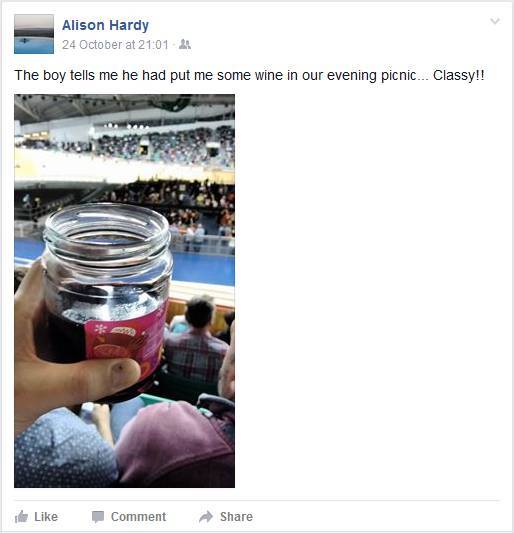 If you start off with the concept that you are allowed to bring your own picnic into the Velodrome, you can quite quickly make the leap that you can also bring in your own booze.
Queue the final piece of the puzzle, it was my long overdue turn to be the designated driver for the evening so I was collating the appropriate beverages for Ali to consume. Turns out we didn't have much in which would tickle her fancy, I managed to rustle up a can of pear cider and a large glass of Rioja left over from the previous evening.
This was my eureka moment, grabbing a jam jar from the cupboard I poured the wine in and screwed on the lid -genius. The hardest part was actually convincing Ali that it was a perfectly sane and practical idea and it wasn't till I threw in the Walking Dead reference that she even started to take me seriously.
Turned out to be a great idea, not only did she enjoy the vino, we had a disposible recepticle that we wouldn't feel guilty that we were destroying the planet should we chuck it away on the go. Don't panic though, we didn't throw it away - it came back home with us and it has had a succession of re-uses including several picnic wine outings, home made chutney and several batches of kimchi.
A jamjar makes the ultimate travel wine glass.