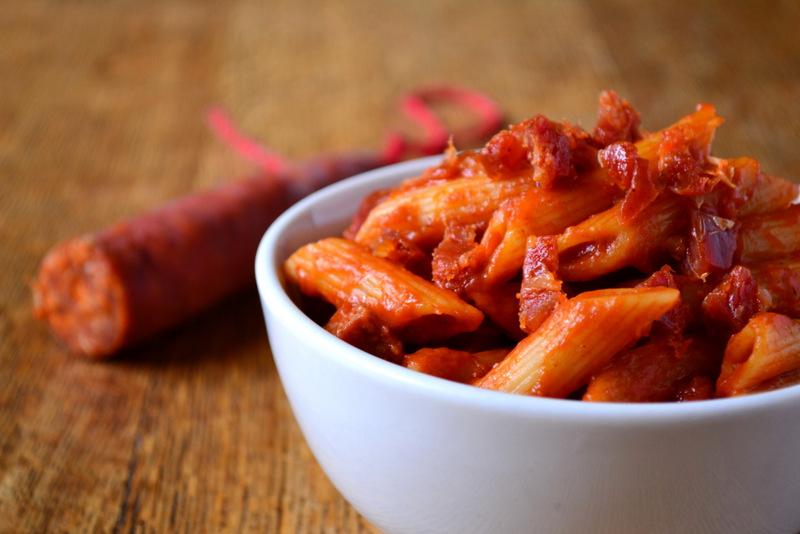 Chorizo & Red Pepper Pasta Recipe


By

Martin Childs

Super tasty, super cheap and super easy - what else do you need for a dish!

I normally make a very similar-ish meal with sliced pepperoni, but having been seduced in sainsburys by a chorizo ring I don't think I'm going back! The texture it adds to the dish makes it for me plus I'm always a sucker for some Paprika. As a bonus theres plenty left over to keep you snacking for a week.

The recipe for two people only uses about a third of the chorizo and as it was only £2 its great value if you can restrain yourself and make it last serveral meals. Or if you are anything like me you can throw that out the window and steadily work your way through it with a nice selection of cheese and biscuits.

I'll also add that it still tastes great as it cools down so it is a perfect dish to pre-prepare and take somewhere to eat as a picnic -great for watching events at the velodrome.
Serves 2
Ingredients
• 60 - 75g chorizo
• one third red or yellow pepper
• half medium onion
• tin of chopped tomatoes
• Optional: couple of cloves of garlic
• paprika
• Salt and pepper
• 120g penne pasta
Method
1. Finely dice the onion and cut the pepper into small batons and start to brown in a saucepan with oil
2. Start to cook the pasta
3. Cut up the chorizo into approx 10mm cubes and add to the oinion and peppers a few minutes before they are brown
4. When they are brown you can optionally chuck in some finely diced garlic at this point as well
5. Throw in the tin of chopped tomatoes stir it up and then sprinkle a nice layer of paprika across the whole pan (a couple of heaped teaspoons) then season to taste
6. Simmer the dish until the excess liquid from the tomatoes has evaporated
7. Drain the pasta and add all components to a pasta bowl and serve.